Barn drama is inevitable, and it sometimes can take away from the love of riding and the enjoyment of spending time with your horse or pony. While we all know we shouldn't let ourselves be consumed by barn drama, it has happened to the best of us. In this post, I will give you ways to deal with barn drama in a healthy manner so that you can go back to doing what you love the most.
1. Write a letter to whoever is causing you problems, but don't send it: This is a very common tactic for releasing bottled up emotions against a person or situation in your life that may be making you angry, sad, or frustrated. I actually did this over the summer when I was experiencing a large amount of barn drama. When you write it all down, you can say whatever you want without worrying about the repercussions. It's normal to be angry or upset with someone who is causing barn drama that is affecting you, and you can use a paper and pen (or Microsoft Word) to let that person know exactly how you feel without letting them know how you feel. I recommend writing the letter down on a piece of paper or in Microsoft Word because there is no risk of accidentally sending it to the person who is pissing you off (Anyone see the Kardashian episode where Kourtney writes her feelings down to Scott in a Blackberry email message and Kim "accidentally" sends it? Anyone? Come on.. you know you watch the Kardashians…. anyway…) After I wrote the letter to my barn managers, I found myself feeling a lot better about everything that had happened prior to the letter. This might be something you need to do several times, but it certainly helps. For a bonus, you can even set the letter on fire (safely, please!) as a symbolic way of "getting rid" of your emotions.
2. Talk to a trusted (preferably non-barn) friend: This might be difficult because non-barn friends tend not to want to hear about barn drama. Or, if they do want to hear, they may not exactly understand your frustration or what is going on. If you're lucky enough to have a friend that will listen, talk it out with them! An objective third party may be able to give you some valuable perspective on the situation, point out any contributions you have made, and give you a way to deal with it that you may not have thought of yourself. The reason I recommend a non-barn friend is because when there is barn drama, it's hard to figure out who to trust at your barn – at least that was the case for me. When I discovered that my horse had been without water in his stall for the second day in a row when it was hot out, I went to one of the members of the barn staff to complain. Another member of the barn staff happened to be there at the time as well. I found out later on that instead of addressing the issue appropriately, they went back and exaggerated what I had said to my barn manager. Later on, my barn managers insisted that I was wrong for complaining that my horse didn't have water and that I had to apologize for saying something to the barn staff about it. Instead of confiding in someone at my barn about this situation, I spoke to a fellow equestrian friend that was not at my barn to get their perspective (which by the way, was that I was absolutely, 100% right for complaining about my horse not having water two days in a row, and if the barn staff was offended that I complained, too damn bad). If you know someone at your barn that you know for certain will not repeat what you say, then by all means, go to them! But I wouldn't recommend taking the risk. This also works if you have an equestrian friend that is not affiliated with your barn in any way and doesn't know anyone at your barn. For me, I often spoke to my mom or dad about any issues I had at my old barn. They would give me their perspective and advice on how I could deal with it without causing further issues.
3. Go for a long, relaxing ride: One of the reasons we ride is to take our minds off everything else, right? Ever seen the t-shirt "I ride so I don't choke people"? (If not, see above). It's partially true. When I am unable to ride, I get incredibly moody, and I find even the littlest things frustrate or upset me. When I am able to ride, I am so focused on me and my horse that I forget about everything else that is going on in my life, which is a wonderful and amazing feeling. This is only a temporary fix, but it is a healthy way of dealing with your frustration. Rather than going up to who is making you mad and screaming at them, spend some time with your horse. You don't even have to ride – take them out for a graze, groom them, give them a bath, something where it's just you and your horse spending time together. It'll do wonders for your soul, and your horse will love the attention!
4. Remove yourself from the situation: If you are in a situation where the barn drama is happening at the moment, and you find yourself getting so upset that you might blow, leave. Walking away is better than having a blow out with your barn manager, trainer, or fellow boarders/riders. Over the summer when I mentioned to my barn manager that he had been feeding my SmartPaks incorrectly, he took the ones I had left and threw them onto the windshield of my car and then made a comment to a boarder and good friend about how I was acting like "little miss lawyer." When this got back to me, I was fuming mad and shaking. My boarder & friend asked me if I wanted to go for a drive or get coffee, and I said no because I wanted to go speak with my barn manager immediately. She made me go with her anyway. While I didn't calm down much, it helped me formulate what to say and how to appropriately deal with the situation so I did not make an ass out of myself by acting on my emotions right away. I was able to somewhat calmly talk to my barn manager about what had happened, and I also used that as an opportunity to let him know that I would be looking for other boarding facilities effective immediately.
5. Move barns: This is the most drastic way of dealing with barn drama, but sometimes it is absolutely necessary, especially if the drama has gotten so bad that it is ruining your love for riding and causing you an unhealthy amount of stress, aggravation, and upset. Many of you that have followed me on Twitter or read this blog over the summer know that I was dealing with a lot of unnecessary harassment, bullying, and drama from my barn managers during that period of time. When I realized that things were not going to get better, even when I addressed the situation with my barn managers, I decided that it was best for me to part ways with them and move to a facility that was more in line with my goals and less about being competitive, catty, and exclusive. This is not something to be taken lightly, but it certainly is something every boarder or rider should consider when the drama gets to be too much. There is nothing wrong with separating yourself from a toxic situation. In my case, it had gotten to the point where I had a pang of anxiety in my stomach as soon as I got halfway to the barn. I even considered quitting riding, and the problems were affecting my relationship with my horse, my trainer, and the progress I was making!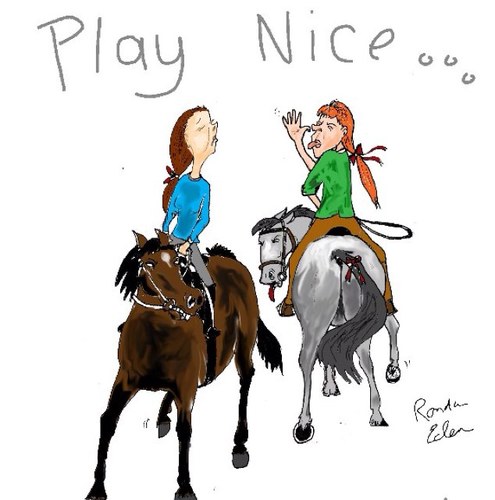 A disagreement or fight will happen every once in a while. It's inevitable in this sport for any number of reasons. But barn drama should never take away from our love of the sport. While we may have a number of ideas about how to deal with the drama, some of them may not be so healthy, and they may end up doing permanent damage to relationships that we really do value deep down. Instead of acting on your impulses, consider trying one of the five tips above. You may be thanking me later!
Got another healthy way to deal with barn drama? Let me know in the comments below!
Don't forget to keep up with us on social media. We are on Instagram, Facebook, Twitter, and Ask.fm!