Spring is finally here! With temperatures (finally) consistently in the 60s (and 70s), it's time to prepare our horses for warmer weather and get rid of all the crud winter has left behind. Guest writer Christa Myers has given us some tips to put in our spring arsenal to make sure we are prepared for spring's arrival.
—
Snow is melting; the ground is thawing; temperatures are rising.. sure these things mean spring is upon us. But they also mean: MUD! Gone are the days of frozen limbs and having to cool your horse out forever! Though many of us prefer this to the morbidly low temperatures and frozen buckets, it still presents a challenge.
Horses begin to shed their coats, and we suddenly realize we didn't need to buy that new heavy blanket because wow that's a lot of hair! By the time we leave the barn, we have horse hair everywhere (Note: Do not wear any lip products to the barn until at least June). I bet you didn't think the dirt under your nails could accumulate anymore.. well, you're wrong. Get ready to paint those babies black for the rest of spring.
However, despite all this, I'm going to build your arsenal to better equip yourself for the spring (and fall, but let's not think that far ahead). Adding these items to your grooming kit will help you beat that spring fever. And, many of these products will even make you smell good when leaving the barn.
Waterproof Gloves
These will keep your hands from getting wet and muddy. That water bucket you've been dipping your muddy hands in.. there's no need for that anymore. (Admit it, you've done it). A pair of these are great to have around the barn. Outside of grooming, you can use them when watering because the temperatures aren't quite warm enough to want to have wet hands. These are a huge life saver when your horse has decided stepping in every mud infested area is their new favorite activity.
Bonus: you maybe able to leave the barn without half the pasture under your nails.
Microfiber Towels
These pieces are a gift from above (or China..) You've been brushing your horse for a solid hour, and you still can't get those tiny specks of dust off your horse. Take a microfiber towel and rub it across the dust infested area. It'll take care of that problem in no time! They are also super absorbant, so if your horses feet are wet, microfiber it. The best part of these towels is that they can be bought from a local dollar store for super cheap! You don't have to worry about ruining them at the barn.
Shedding Blade
Many of you will already have one of these in your grooming kit, and if you don't, you should. A shedding blade will not only help you take off the billionth layer of your horse's winter coat, but when mud is coated on, and you only have thirty minutes to get ready for your lesson.. it will become your best friend. Plus the other side doubles as a sweat scraper for many models.
Slick 'N Easy Horse Grooming Block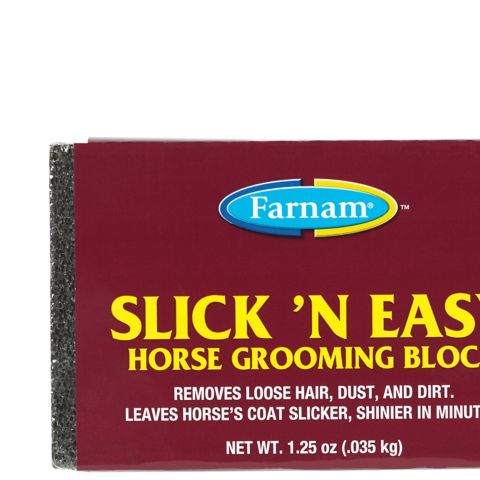 These small rectangular blocks make shedding go by quicker. They normally sell for only a few dollars at your local tack shop. Just rub it like a brush and watch the hair come off super easy! They also last a while. I had one block last two shedding seasons. For the stubborn spots on your horse, this helps out even out coats which will come in handy for those early season shows. No one wants to bring a mammoth into the show ring. (Well… someone has to, now it doesn't have to be you)
Mrs. Conn's Sponges
I just recently found out about these sponges. For $10 + the cost of shipping you can have a sponge (with natural ingredients) with shampoo already in it. Just add water, start rubbing and magic happens.. well you have to put a little elbow grease into the equation but by the end of it, you can fix a few problems. 1. Your horse will smell GREAT. 2. They offer different sponges for every day problems. This summer my pain-in-my-behind mare developed a bacterial skin problem. She basically looks like she has mangles. As I head home in a month and ditch the textbooks for breeches, I'll have to invest in some different products to get my mangy looking mare show ready in a very short period of time. Ashira likes to cause panic before show season, which you'll read about shortly. However with these sponges and other products, she'll be loaded on the trailer and heading to shows before she knows it. Minor cuts, scrapes and irritation? Solved! Go to the Mrs. Conn's website to find out more information. Looking for the perfect gift for your favorite equestrian? These are a great investment!
Effervescent Brush Cleaner
What's the best way to have a clean horse? Cleaning them with clean brushes! The product I found is Effervecent Brush Cleaner (Hint: Order through SmartPak [linked above] and get these on AutoShip so they come on the exact right time and remind you to routinely clean your brushes). However, if you don't want to spend your money on the brush cleaner, simply washing with soap and water will do the trick. While spring cleaning make sure to include your brushes. When I was little, I told my mother I needed new brushes because mine were dirty, I almost got away with it until another mother mentioned brushes can be cleaned. Save yourself some money, and clean your brushes. You'll have a shiny pony on your hands!
Ecolicious Equestrian Products
You're going to want one of everything they offer. Not only are these products natural, they smell amazing, and the results are divine. We all love our horses, so I like knowing what I'm putting on my horse. To top it off, EcoLicious products are environmentally friendly. No more fretting over soap going onto the grass or down drains. While I could list off every product on their site, I have picked four that I believe will help you get from spring to summer, and every single one keeps your horse shiny and clean!
– De-Stress Intensive Restructuring and Detangling Treatment (Full The Legal Equestrian review coming soon)
After a long winter, I use this on my mare to resurrect mane and tail. It goes from dry and rough to shiny and soft. The product will also help with growth which comes in handy for those pesky horses that like to rub off their gorgeous manes and tails.
– Moisture Maniac Mane and Tail Infusion (Full The Legal Equestrian review coming soon)
This product is great to maintain that shine and health produced by the De-Stress Intensive Restructuring and Detangling Treatment. Use it the same way as any other spray-in conditioner and voila! Shiny healthy mane and tail. It also smells great!
– Squeaky Green & Clean Shampoo & Silky Rinse Out Moisturizing Conditioner
These two products are like Blair and Chuck (if you haven't watched Gossip Girl or have zero idea who Blair and Chuck are, finish this post and then Netflix Gossip Girl immediately), the perfect match. (Just more happy ending, less heartbreak). When the temperature is nice enough for a bath, these will be the products I'll be using. A little goes a long way, and the results are magnificent (think super soft and super shine)
EcoLicious Equestrian has a full line of horse (and human) care products that can be found here.
(Editor's Note: In full disclosure, The Legal Equestrian head writer is a brand ambassador for EcoLicious Equestrian and part of their #teamchic. However, she has been reviewing their products for much longer than being part of their ambassador team).